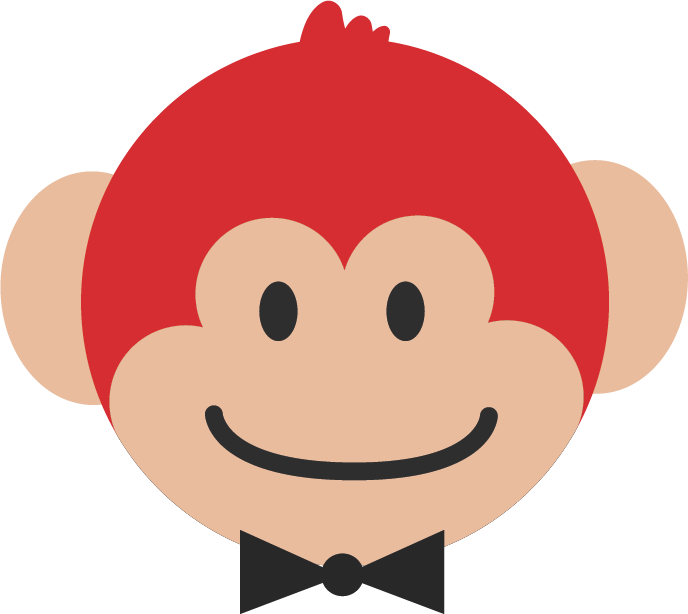 Create a dating app that users can create a meaningful connection with someone and feel that they can move forward and getting a better sense of who they are talking with and potentially meeting, especially to avoid catfishes. With this in mind, I created the dating app face2face which combines video chat and speed dating in order to help users to meet multiple people in one session, establish connections and get a real sense of what the person is like behind the screen, not hidden by text. 
Online dating apps can be tricky sometimes, anyone can create a fake profile or take pictures from certain angles that make for misleading profiles and potentially trick people (catfishing). Sometimes people are very different behind their phones and through text messaging, through text they can hide who they truly are. 
My solution to the problem is simple. Introduce users to each other via video chat, and not just a profile card. With this users can get a better idea of what the other user is actually like. And to get users to see as many people as they wish in a timely fashion, I introduced the concept of speed-dating. With face2face users will be able to experience a form of speed dating where once they start, they will be given matches based off their selected preferences and then once the parameters have been set, a series of dates will begin. Users that match with each other will have a set time limit of seven full days to begin messaging before the match and chat history is erased.
For competitors, I looked at the two most popular dating apps on the market, Tinder and Bumble. Originally I looked at them to get a feel for the experience, but I quickly realized that these apps aren't geared towards getting users to find real deep interactions, its for quick messaging and hoping the users connect, or it's on to the next one. When I realized these two apps weren't necessarily what I wanted my app to be, I used them more as a reference from a UI standpoint.
Then I found the dating app Coffee Meets Bagel, and finding this app was extremely helpful. The app curates potential matches based off the users preferences and gives them a few profiles to look through at noon each day. If two users end up matching, they have seven days to talk and take the potential relationship off the app, because once the seven days are up the chat is disabled between the two users. 
​​​​​​​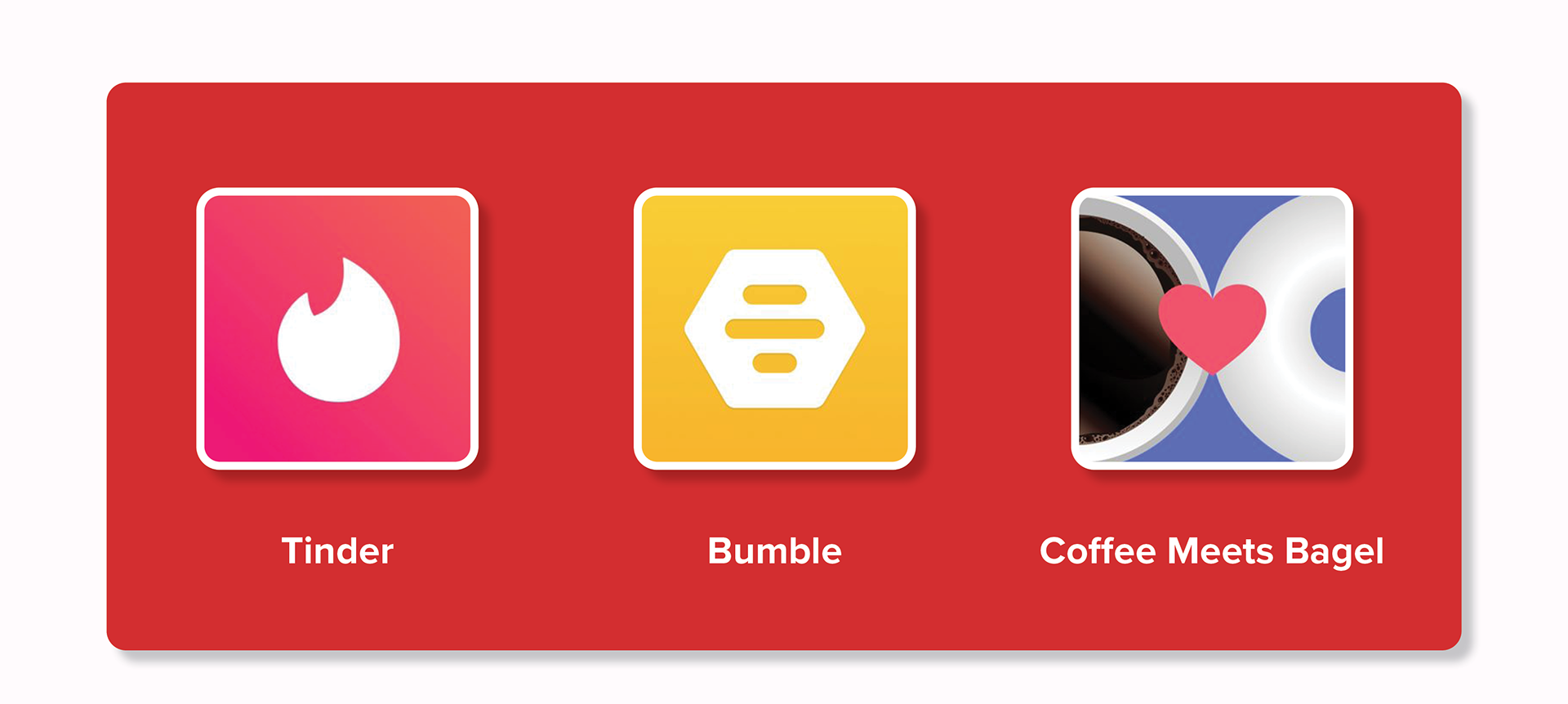 Caitlyn is the persona I worked with from the beginning when I started thinking about how I could solve the major problems I had with dating apps. She's had bad luck with the popular dating apps and has encountered many catfishes and when the guys weren't catfishes, they were very suave and charming during the texting phase, but once they got into the dating phase, they were as dry as a brick!
Keeping her experiences in mind I was able to find a solution, save the texting for later, and make the users do live video chatting to match with someone. 
I created face2face's app map to visualize and get a sense for the experience flow of the app as a whole. Doing this helped me organize the architecture of the app and understand how things should be laid out andin what order certain things should go.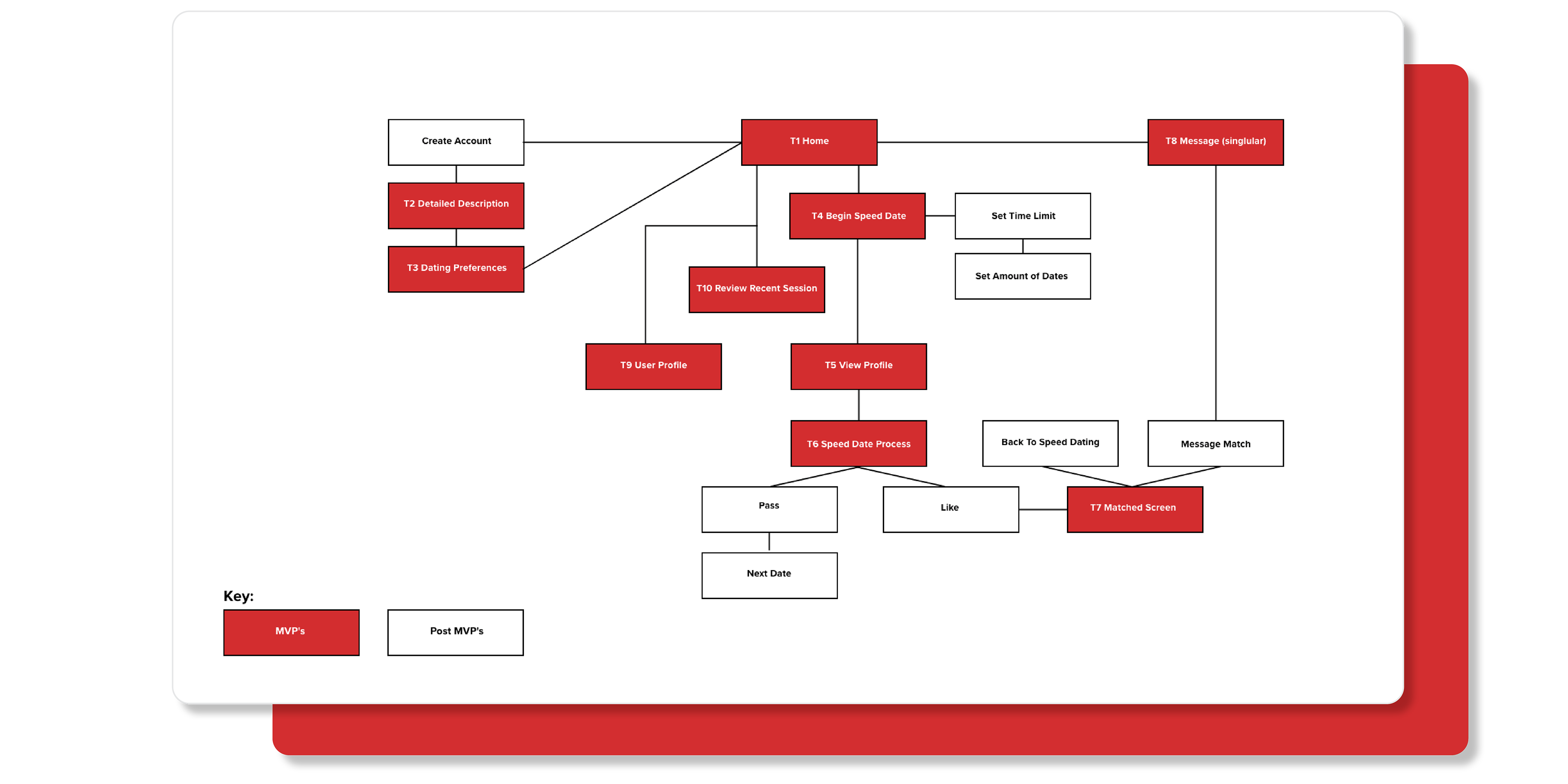 I started sketching on blank note cards, this was a great way to keep the ideas flowing without holding onto any ideas too much. I could also move around any pieces I liked and felt could fit elsewhere around. On the front side of the note cards was the sketch itself, and the back of the cards was a list of everything would be on that screen, ie: profile picture, name, description, questions, like button, dislike button, etc. 
It was helpful to write out what needed to be on each screen, and then sketch accordingly.